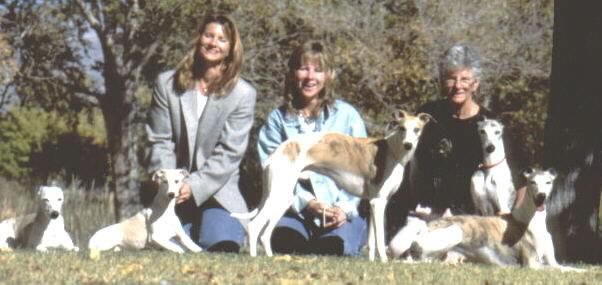 (From Left - Whitney, Dawn, Jeanne, Kathy, Spirit, Judy, Adam, Peter)
It all started as a family affair. Our mom, Judy, owned Collies and Borzoi as a child. As an adult, she ventured into the world of Weimaraners. Judy, and our dad, Ron, showed Weimaraners in the 1960s in obedience where they obtained many high in trials and participated in scent hurdle racing. Both Ron and Judy were members of the Northridge Dog Obedience Club (NDOC), where Ron was president for some time in the 1960s. Judy was an obedience trainer for NDOC in the 1960s and early 1970s. She also taught obedience classes at Pierce Community College, Woodland Hills, CA in the early 1980s.
Beginning in the 1970s, Ron ventured into quarter horse pleasure riding and mom, Judy, and us kids, Jeanne and Kathy, began our involvement with the Whippets. We participated in obedience trials, lure coursing and Award Of Merit racing events. One of our super achievers was acquired from Donna Valenti (Topper) as an 8-week-old puppy. She is the fabulous Toppers Oh Golly Ms Molly ARM, F.Ch. She is pictured in Louis Pegram's Book, The Complete Whippet. Molly was the youngest female whippet to win her ARM, and she ran undefeated as a puppy at the prestigious Santa Barbara race meet. As an adult, she won the Northern California Whippet Club's 1974 race defeating the top-winning dogs.
Watch~Me Whippets was founded in 1986, with Whitney (Ch. Cygnet Watch~Me Ms. Whitney, CD, JC, ROMX). As an outstanding producer, Whitney had ten champion offspring in two litters, completed her obedience title without ever attending a training class or practice match and ran for her junior coursing title as a veteran. She won Best Brood Bitch at the American Whippet Club Western Regional Specialties and her Veteran class at the Texas AWC National. Whitney is mentioned in author Bo Bengston's book, The Whippet, as the famous BISS Ch. Delacreme de la Renta's offspring who went to be the top producer of champions.
Whitney's first litter of 10 produced seven champions who include:
* Am. Mex. Ch. Watch~Me Mr. Willy McCoy-1993 American Whippet Club Top Twenty
* Ch. Watch~Me Peter The Great- Group winning
* Am. Mex. Ch. Watch~Me Belle Bathsheba, SC, ROM won the prestigious American Whippet Club National Specialty Best Brood Bitch Award twice
* AWC Select Ch. Watch~Me Ms. Catalina Eddy, JC
* Ch. Watch Me Blonde Bombshell, SC
* Ch. Watch Me Hillary Headliner (L. Britt)
* Am. Mex. Intl. Ch. Watch Me Silhouette de Milos (T. Hickmann)
Whitney's second litter produced the American Whippet Club Specialty High in Obedience Trial, Watch~Me Ms Independence (Owner: Sharron Simmons). She also produced the sire of 1996's Number One Whippet Am. Mex. Ch. Watch~Me Star Spangle Banner, JC. (Bugsy).
Belle Bathsheba & Star Spangle Banner were bred and produced the Number One Whippet in America in 1996. She is 9-time Best In Show winner Ch. Watch~Me Ruby Red Slippers (co owned with Harriett Vincent). Ruby's photograph can be found displayed on the Pedigree and Pro Plan dog food company's advertisements around the country.
Our second Best In Show winner also came from Am. Mex. Ch. Watch~Me Belle Bathsheba, SC, ROMX. While Ruby was a Best In Show daughter from her first breeding to Star Spangle Banner, this outcross breeding produced multiple Best In Show Ch. Watch~Me Frolic At DenGayle (Blair), owned by Kathy and Debbie Davenport. In February 2000, Blair went Best of Breed at the prestigious Westminster Dog show held at Madison Square Garden, New York.
Ruby was bred to Top Twenty winner SBIS Ch. O'Run Gustav Nordic Wind, JC, FCh. This breeding produced Dawn (NSBIS, BIS Ch. Watch~Me True At First Light) This lovely bitch has the following to her credit:
* American Whippet Club 1999 National Show, St. Louis, Best Puppy American Whippet Club National Show
* American Whippet Club National Show, 2002, Denver, Colorado Best In Show under the honorable Ms. Isabel Stoffers
* America's Number One Whippet 2002
* Sixteen (16) all breed Best In Show awards
* Ranked in the top 10 for 2001, 2002 and top 20 in 2003
Watch~Me Whippets continues to work with this terrific gene pool in an effort to create some of America's finest whippets. Thank you for visiting. Please feel free to drop us an email. (If there is a problem with link, cut and paste in your email browser)
www.WatchMeWhippets@hotmail.com